Early Years
Reception is a wonderful year group where the children are able to explore, develop and learn new things. The classroom is structured where the children have areas of continuous provision to access. In those areas challenges are set for the children to complete independently or with a friend.
In the Early Years children are assessed continually, as children develop their assessment portfolio is updated regularly. This is done by assessed observations and the work they produce.
We have a daily routine of handwriting, phonics, maths and then other subjects such as RE, PE, topic, forest school and art. Homework and reading books are sent home every week which is encouraged for parents to help with. Phonics and learning to read in Reception is huge part of our curriculum and with parental support it helps the child to feel confident in reading.
Please see our class Cheviots page for more information about what happens in the Early Years.
Our Reception Classroom
The children have access to a variety of resources, they us this space to put into practice the skills that have been taught.
Reading area
We have a large selection of fiction and non-fiction books, for the children to choose from. They enjoy snuggling with one of the teddies and spotting letters and words that they recognise.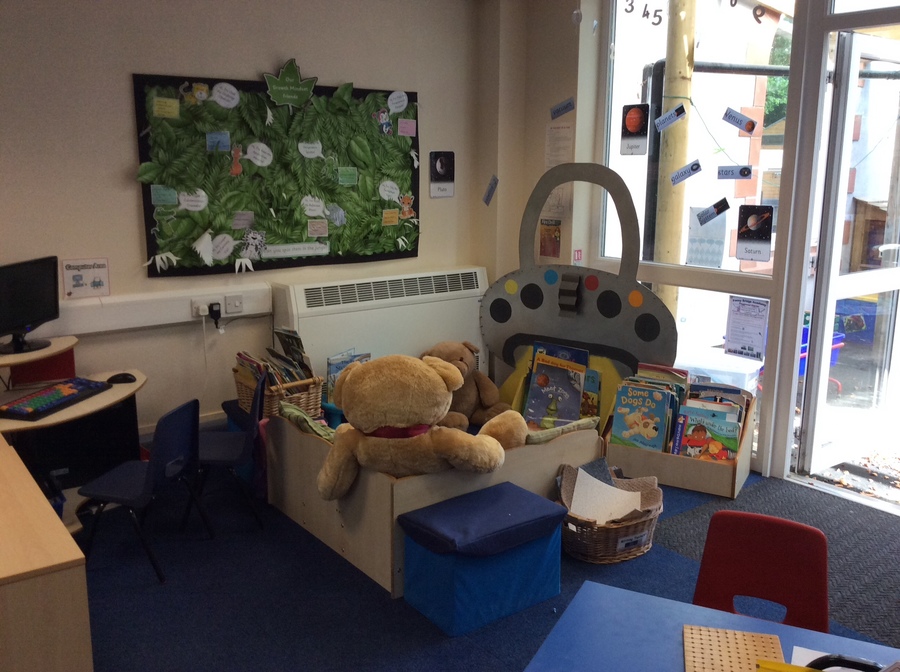 Role play area
Our current topic is journeys and we are looking at space journeys.
Maths area
In the maths area there are activities for the children to practice and apply the knowledge taught from adult-led activities.