Y1 Suffolks
This year the children in Class 1 will be taught by myself Mr McLeod, all week except on a Friday morning when Ms Smolinski will take the class. Mrs Dixon and Mr Moss are our Teaching Assistants who will be supporting the children in Literacy and Numeracy for five mornings. Ms Yusuf will support our afternoon creative curriculum sessions, teaching French and Music on Mondays and Fridays.
In Class 1 we aim to continue to develop the children's ability to work and think independently. We encourage the children to become more responsible for their own belongings and considerate towards others particularly in the working classroom.
The topics that we cover in Class 1 are taught in many different ways that give each individual child the chance to share. We provide a challenging but supportive curriculum drawing from our learning journeys to build skills and independence. Reading is a high priority in Class 1 therefore we aim to hear individual reading at least once a week and use guided reading sessions to support the children's comprehension and understanding of the text. We believe that for children to learn they need to be happy and well supported. Lessons should be fun and inspiring. The children's work is valued and recognised. We feel it is very important for the children to have a caring and sharing attitude towards each other and encourage polite and well mannered behavior.
This is our Growth Mindset display . . . . .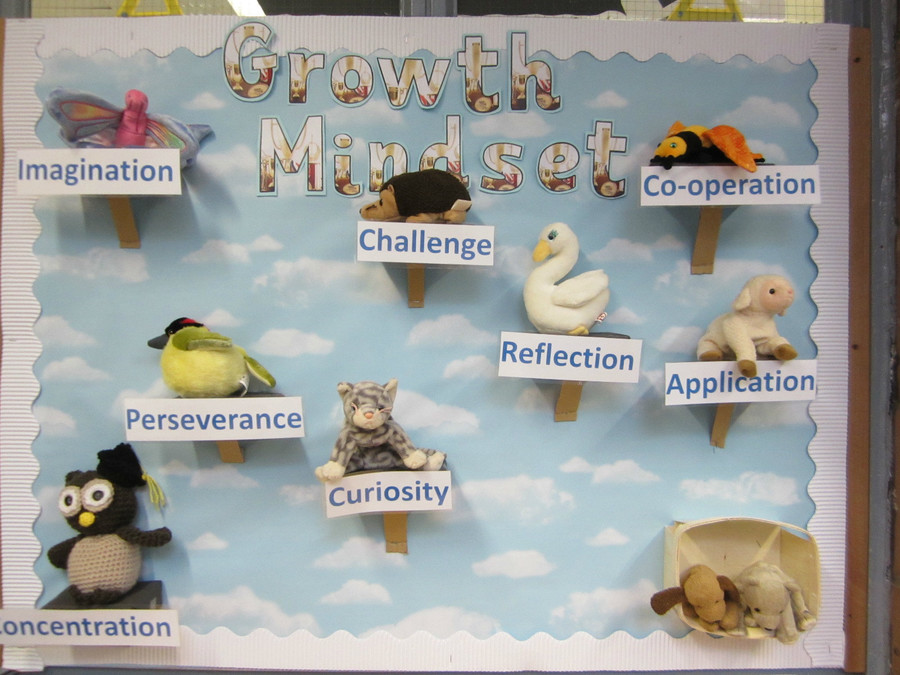 We had a go at making our own talking books! Have a listen below!!
Critical Skills Victorian Day
In pairs the children had to create a short presentation about a Victorian object and its modern day equivalent. View one here!
Autumn
This term our topic is Dangerous Animals! We started this with a visit from Peter at Zoolab, who came along and shared a range of Animals with us!
Take a look at our Topic Web and Learning Journeys here:
Leaning Journeys
RE
Art
This term we have been working on a Gruffalo dance with the children in Reception. Have a look at some of the photos in our slideshow!
To practice our maths skills we had a problem solving morning. There was lots of different activities for us to work with a partner to crack the challenges! It was great fun, we had to find different ways to make 10, make patterns on pipe cleaners, build 2D and 3D shapes, practice sorting into Venn Diagrams and find ways of making 12.