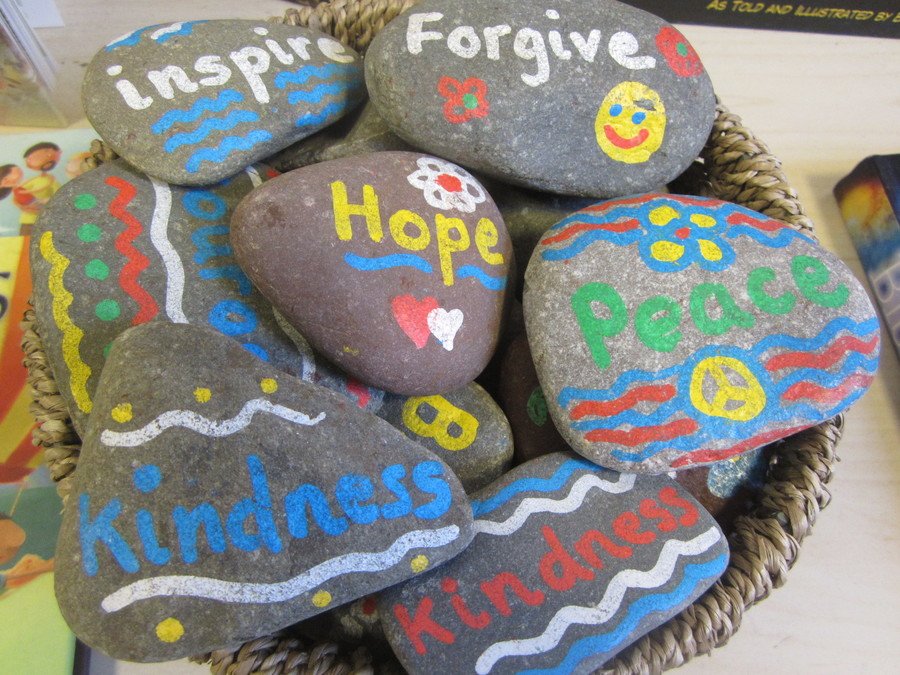 Mission Statement, Vision and Drivers
'Because of God's grace to me, I have laid the foundation like an expert builder'
1 Corinthians 3:10 New Living Translation
Mission Statement
Penny Bridge CE Academy is committed to laying solid foundations that equip children with the knowledge and skills to thrive in the modern world. These are grounded in the Christian values of Friendship, Perseverance and Respect. In order for children and adults to reach their potential and achieve their goals, we encourage a positive outlook so that 'there are only solutions'.
Vision
Preparing for our place in the world
At PBA we want children to leave our school as rounded individuals who are able to make the right choices in life by having:
Environmental awareness
Emotional resilience
Healthy lifestyles
Solid foundations
Believing in ourselves and each other
As a church school, we encourage everyone to demonstrate our shared beliefs and values through:
Christian values
Inclusion and team work
Respect and tolerance
Inspiration, support and challenge
Achieving our full potential
Through a spiral methodology and a consistent approach to teaching and learning, children are given every opportunity to grasp the threshold concepts that form the foundations of our curriculum.
This is achieved through:
Stimulating, exciting curriculum
High standards
Life-long learning
Commitment and responsibility
Watch the photo gallery below which shows images of our Christian Values displays in the hall our corridors and classrooms.
Drivers
Preparing for out place in the world
Environmental Awareness
We live in a beautiful part of the world, within a special rural community. We want our children to love and respect their environment and feel passionate about the world they live in and to know that their actions make a real difference now and in the future.
Emotional Resilience
By encouraging children to adopt the growth mind set, we endeavour to enable children to meet life's daily challenges and be prepared to live in modern society.
Healthy Lifestyles
We want our children to feel safe, to make positive choices and be given opportunities to enjoy physical activity and to regard it as one of life's necessities.
Solid Foundations
We aim to set our children up for success by ensuring all children, without exception, reach their true potential both academically, socially and emotionally. We have a commitment to high expectations which is a common thread throughout the whole school and is apparent in all that we do.
Believing in ourselves and each other
Christian values
There are 12 Christian values that we follow: friendship, thankfulness, hope, forgiveness, courage, trust, compassion, peace, truthfulness, generosity, perseverance and respect.
Friendship, Perseverance and Respect are the three values that underpin our curriculum and are woven into the very fabric of our school.
Inclusion and Teamwork
All children and adults are valued equally and given the same opportunities to discover their special skills, interests and talents.
At PBA we believe that discussion is the pathway to ideas so we encourage teamwork within every aspect of our curriculum. As a learning community, we continuously develop our practice through a collaborative approach.
Respect and Tolerance
Our interactions with each other, our environment and the wider world are based upon respect. We encourage all children to celebrate diversity, value religious beliefs and respect cultural differences.
We expect all children and adults to behave courteously and demonstrate good manners.
Inspiration, Support and Challenge
We aim to inspire and motivate children to want to learn. Through a diverse and challenging curriculum, we support children to ask questions and explore possibilities.
Achieving our full potential
Stimulating and challenging curriculum
As well as academic achievement, teachers inspire their pupils through creative challenges and memorable experiences to move onto the next stage of their education, equiped for success.
High Standards
PBA takes pride in the high standards that are evident throughout the school. We encourage children and adults to always do their best and to use failure as a learning opportunity.
Life Long Learning
All teachers and support staff embody a commitment to continuous self-improvement and exemplify a love of learning. This filters through to our children, inspiring them to challenge themselves and discover more about the ever-changing world they live in.
Commitment and Responsibility
As part of the Christian family, we link our vision to key bible stories which enables God to guide and support us every step of the way. Through our faith, we develop a strong sense of community and belonging regardless of our differences.
We aim to develop thoughtful and caring pupils who are able to form their own responsible values and make informed choices.
Bible Stories linked to our Christian Values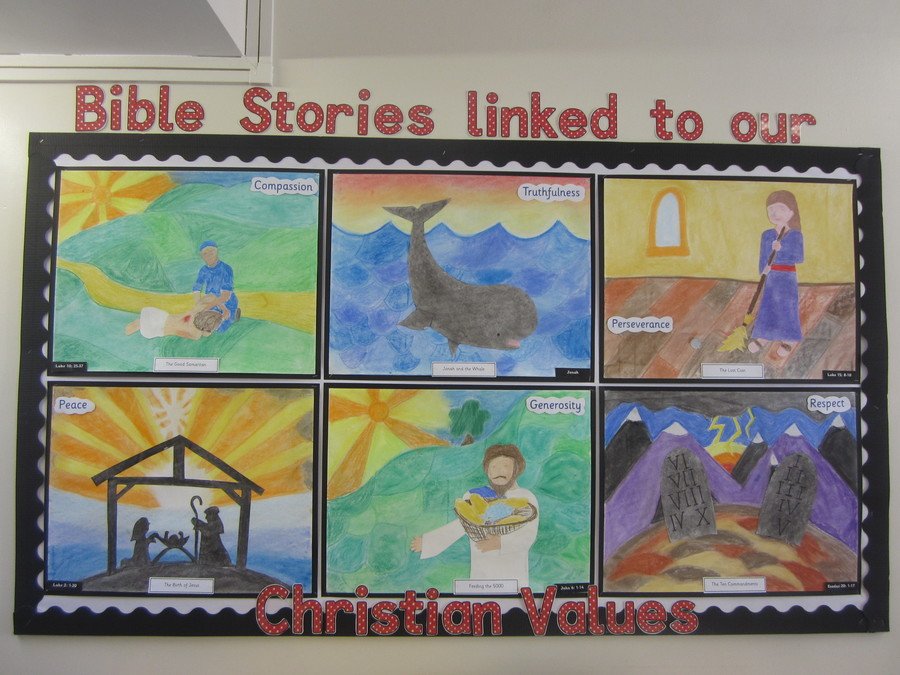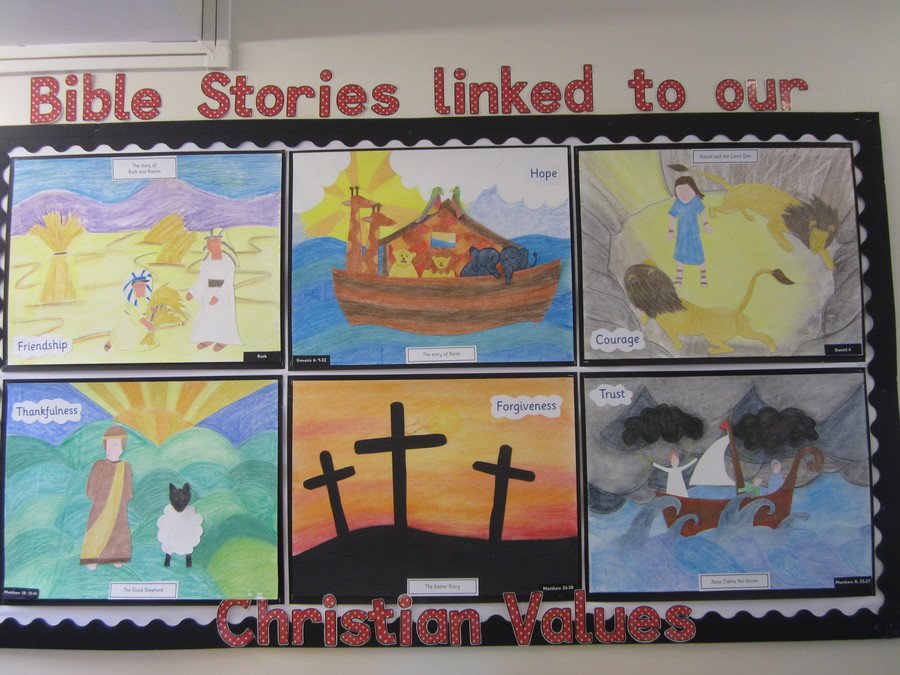 GODLY PLAY AT Penny Bridge CE Academy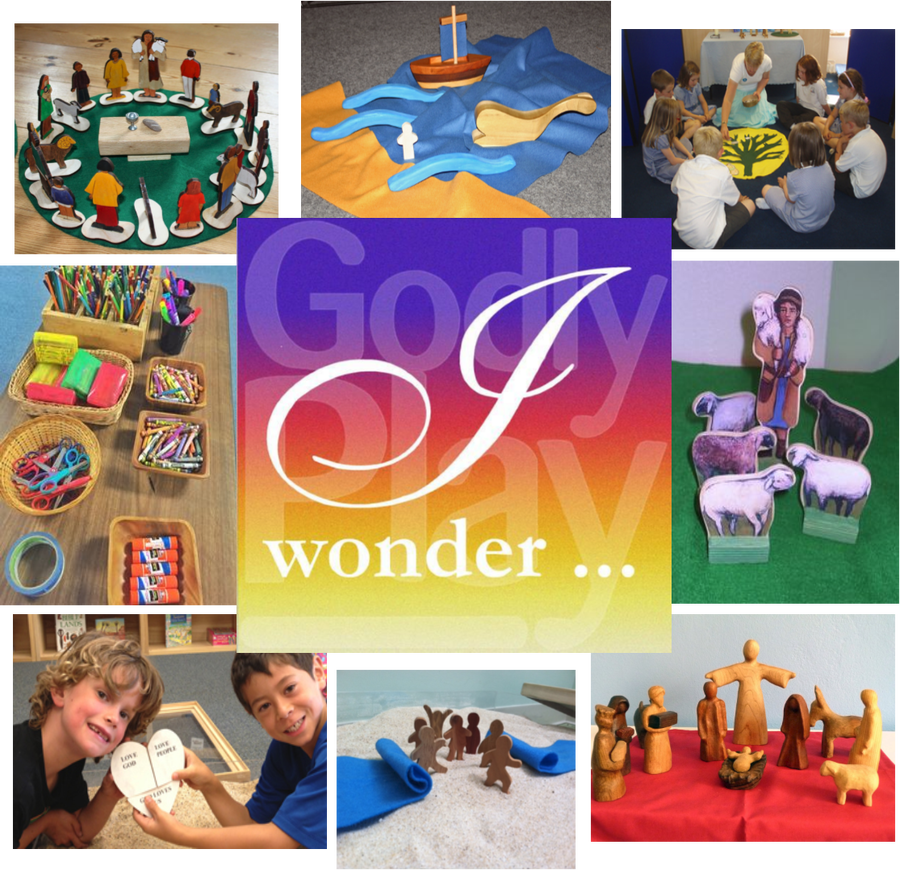 An Introduction to Godly Play
Godly Play teaches children and adults that being quiet, careful and deliberate can be as playful and satisfying as being noisy and busy. This message is delivered in a gentle and consistent way using art activities to create an expressive response to what a child feels, thinks or imagines after 'receiving' the parable or story told in the group setting.
Godly Play enables children to respect the space, materials and the other children they work with, learning to enjoy each other with care and patience. It is a way of 'wondering' and responding to the Bible's sacred stories, and teaches that everything in God's creation is given in holiness, including each of us and that we are a part of everything in creation.
Godly Play affirms and honours elements in our Christian tradition including non-verbal communication, quietness, receptivity, awe and wonder. In their own time children are discovering elements of these traditions.
Every Godly Play session gives children times of focussed attention and listening when a story is 'opened'/presented and invited to enter it. After which the children are given a time for personal and collective response by reflecting on the story further, finding what they need to wonder about more or investigating other story resources.
Children make a free choice response eg. playing, drawing, making, painting, reading, thinking, resting, praying or talking. During this time the adult storyteller doesn't interrupt or 'visit' the children but remains present and is available if a child approaches them or asks for help.
During each session children's abilities are deeply respected and encouraged with the session ending in a snack together with a prayer of thanks.
Our Understanding Christianity Timeline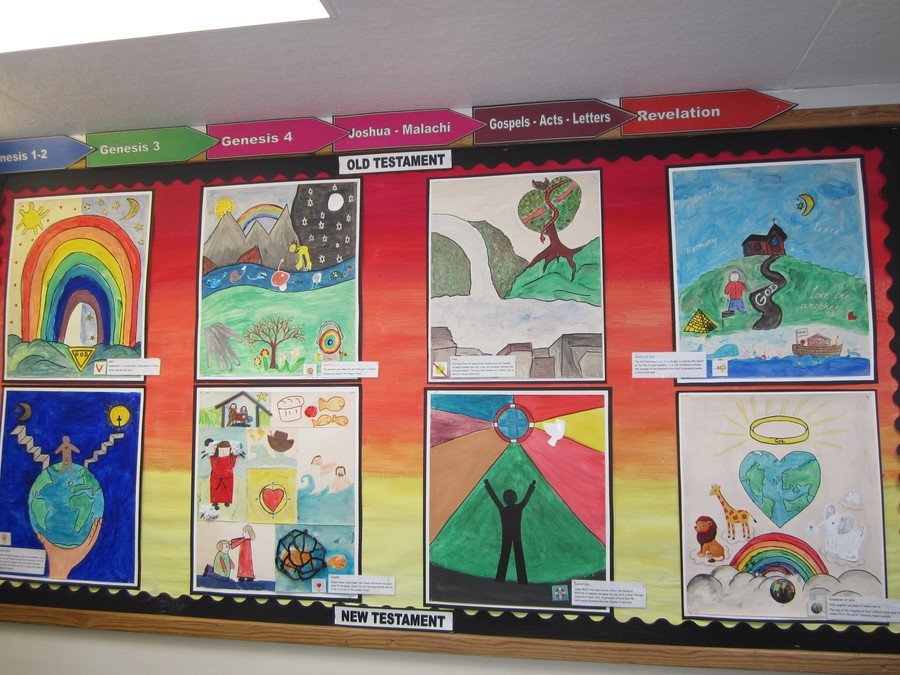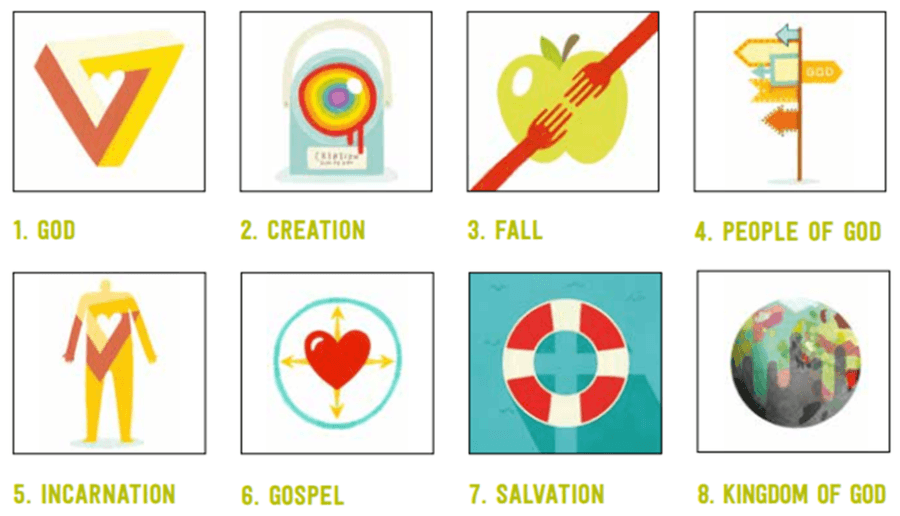 Understanding Christianity
The key purpose of this programme is to help all teachers support pupils in developing their own thinking and their understanding of Christianity, as a contribution to their understanding of the world and their own experience within it.
We aim to see pupils leave school with a coherent understanding of Christian belief and practice. Pupils explore significant theological concepts within Christianity as part of developing their wider religious, theological and cultural literacy.. Children worked in small groups to design their own pieces of art work to be added to the large timeline. The timeline and symbols are located on the corridor for all the children to see daily.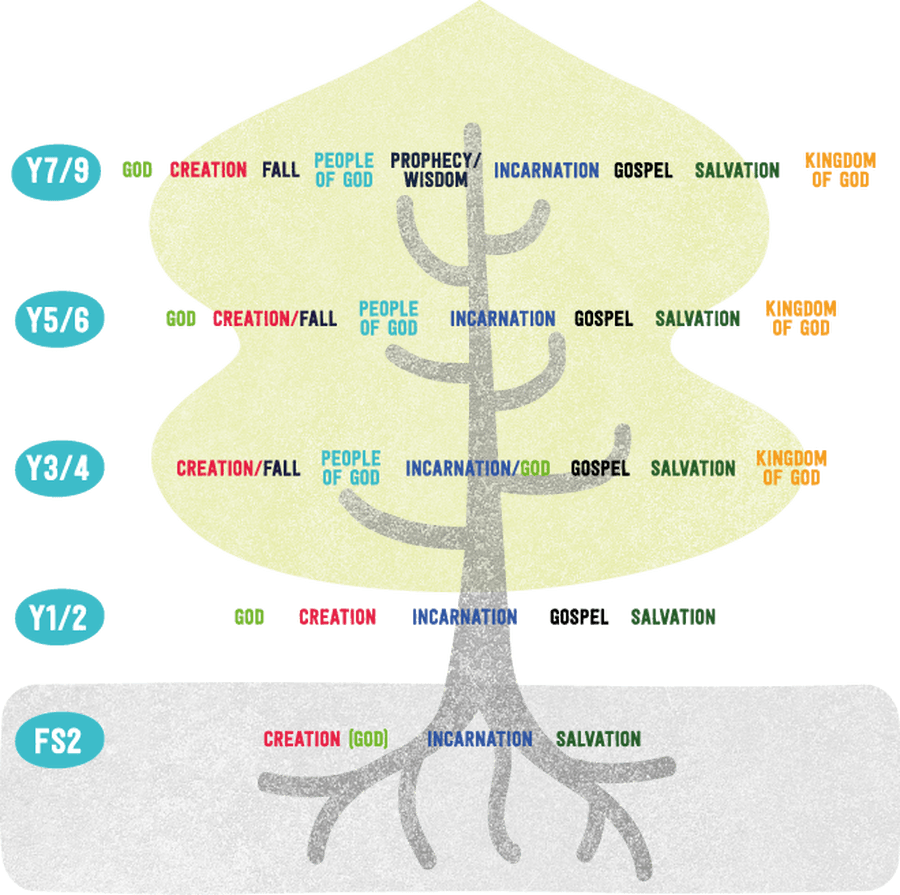 Christian Values displays in our classrooms
Baptism and Courage - Class 2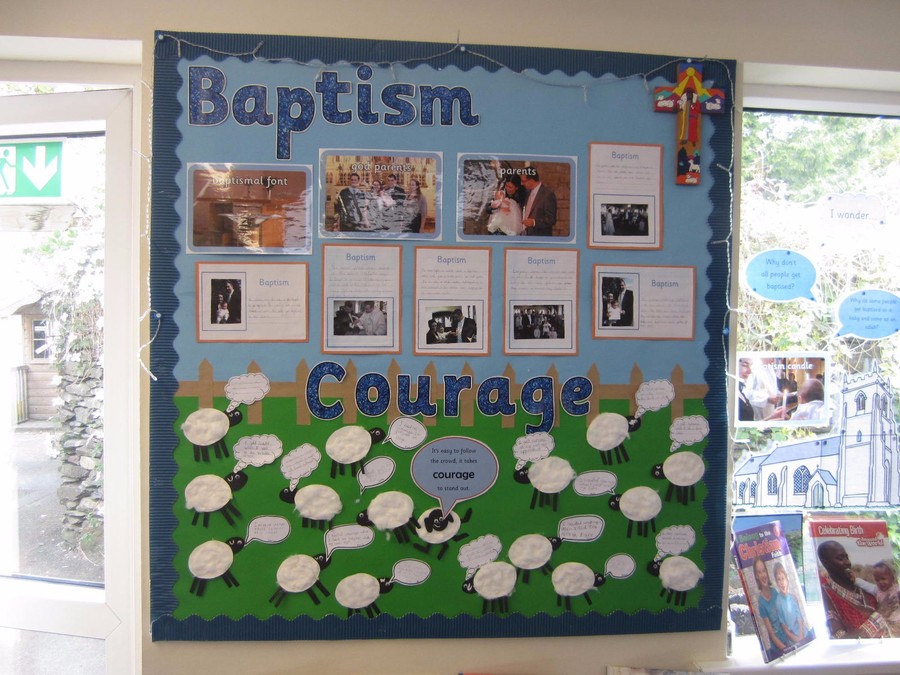 Our thoughts on courage . . .
Class 2 - writing and illustrations on 'Caring for God's World
Prayers for Forgiveness at Easter by Year 5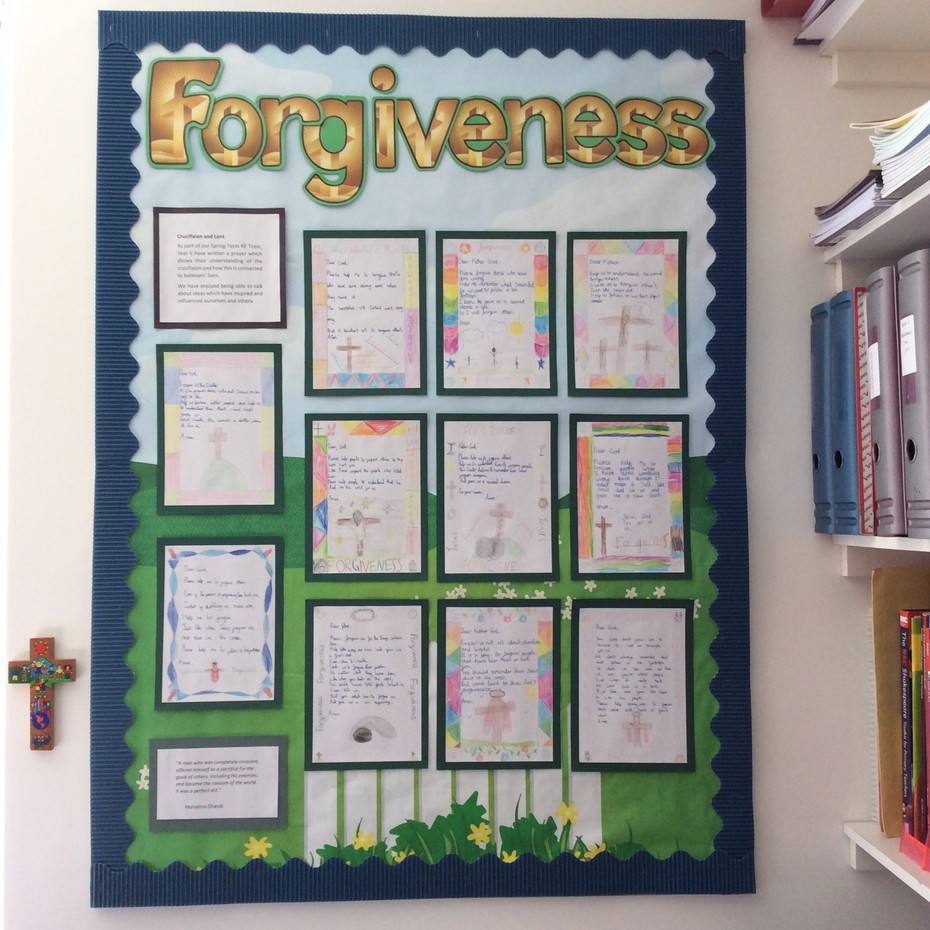 Look at all our lovely classroom RE displays . . .
(CLICK on photo to enlarge)
Christian Value Bible Stories
Autumn Term

Compassion
The Good Samaritan - Luke 10: 25-37
Peace
The Birth of Jesus - Luke 2: 1-20
Truthfulness
Jonah and the Whale - Jonah
Generosity
Feeding of the 5000 - John 6: 1-14
Perseverance
The Lost Coin - Luke 15: 8-10
Respect
The 10 Commandments - Exodus 20: 1-17
Spring Term
Friendship
The story of Ruth and Naomi - Ruth
Thankfulness
The Good Shepherd - Matthew 18: 12-14
Hope
The story of Noah - Genesis 6: 9-22
Forgiveness
The Easter Story - Matthew 26-28
Courage
Daniel and the Lions Den - Daniel 6
Trust
Jesus calms the Storm - Matthew 8: 23-27
Here are our Christian Value certificates which are awarded every half term in our Praise Assemblies.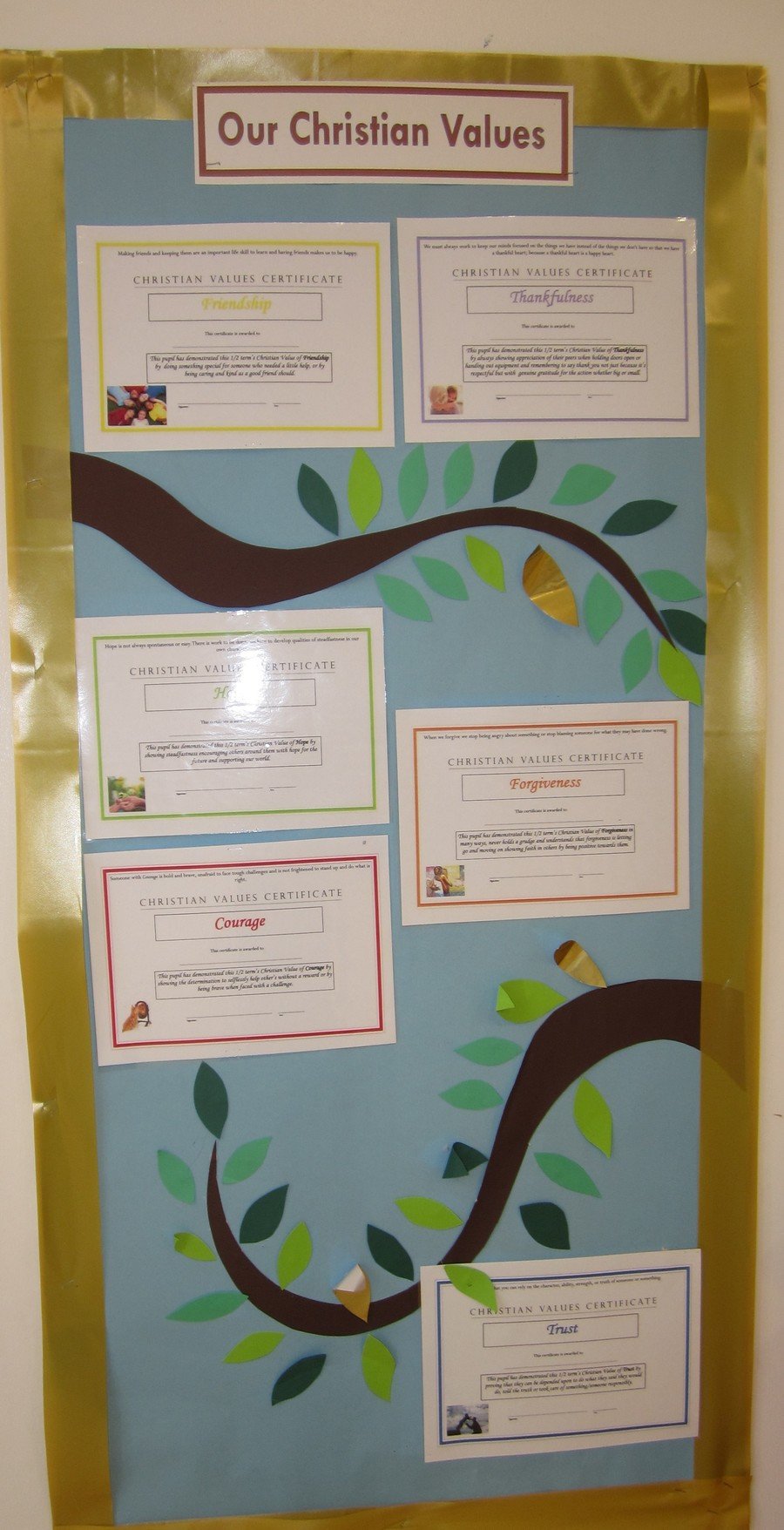 For further information, click on the links below.