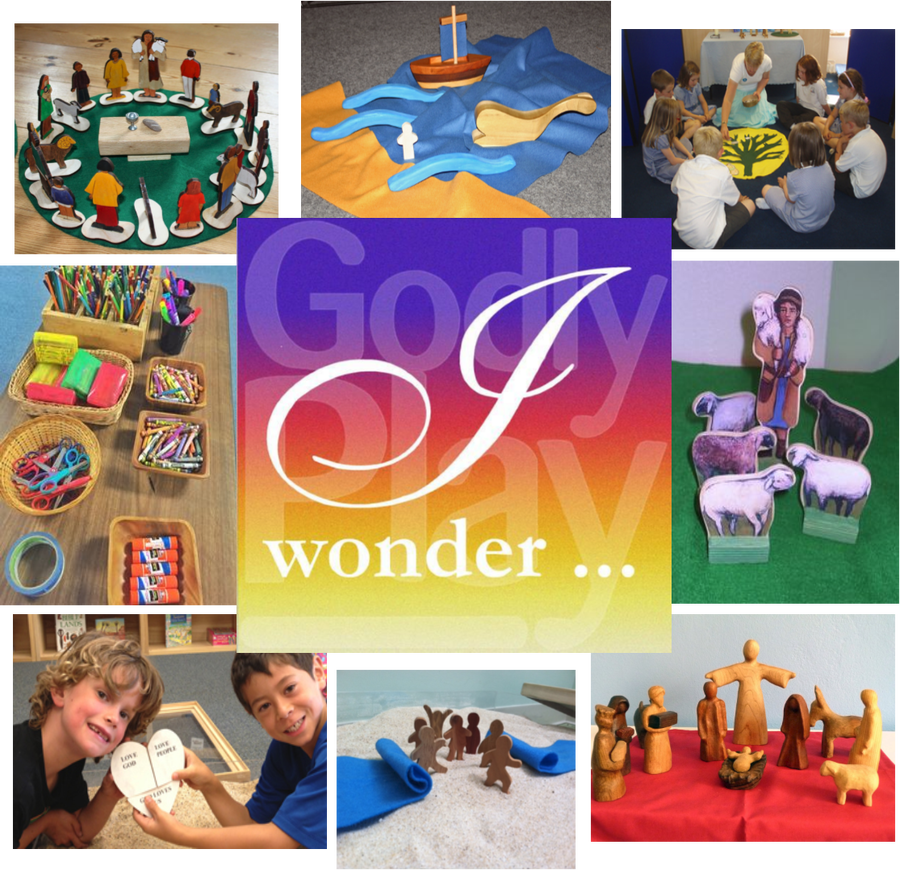 An Introduction to Godly Play
Godly Play teaches children and adults that being quiet, careful and deliberate can be as playful and satisfying as being noisy and busy. This message is delivered in a gentle and consistent way using art activities to create an expressive response to what a child feels, thinks or imagines after 'receiving' the parable or story told in the group setting.
Godly Play enables children to respect the space, materials and the other children they work with, learning to enjoy each other with care and patience. It is a way of 'wondering' and responding to the Bible's sacred stories, and teaches that everything in God's creation is given in holiness, including each of us and that we are a part of everything in creation.
Godly Play affirms and honours elements in our Christian tradition including non-verbal communication, quietness, receptivity, awe and wonder. In their own time children are discovering elements of these traditions.
Every Godly Play session gives children times of focussed attention and listening when a story is 'opened'/presented and invited to enter it. After which the children are given a time for personal and collective response by reflecting on the story further, finding what they need to wonder about more or investigating other story resources.
Children make a free choice response eg. playing, drawing, making, painting, reading, thinking, resting, praying or talking. During this time the adult storyteller doesn't interrupt or 'visit' the children but remains present and is available if a child approaches them or asks for help.
During each session children's abilities are deeply respected and encouraged with the session ending in a snack together with a prayer of thanks.
Spiritually SMART
Morally SMART
Socially SMART
Culturally SMART
SPIRITUALLY SMART:
We have developed a Garden of Eden which is our prayer space for spiritual reflection and is available for the whole school to use.
We celebrate spiritually through whole school assemblies, class worship, church services and special visitors. We learn to appreciate the range of beliefs of others and how this informs their way of life.
The curriculum is carefully planned to provide opportunities for excellence and enjoyment and the children use their imagination and creativity.
MORALLY SMART:
Children recognise the difference between right and wrong and apply this understanding in their own lives. They have ownership of class rules and learn how to conduct themselves appropriately. We believe that through a varied and creative curriculum the children develop into open, broadminded and tolerant individuals.
SOCIALLY SMART:
Through a range of different opportunities and strategies children develop strong social skills. These critical skills include working collaboratively, communication, organisation, reflectiveness and adaptability. The school provides a wide range of extra-curricular activities which further develop children's social skills.
CULTURALLY SMART:
We celebrate diversity through the study of cultures and countries different to our own. All children participate in and respond to artistic, musical, sporting, culinary and cultural opportunities. The school regularly organises educational visits, residential, music and sporting events to further enhance cultural awareness.
__________________________________________________________________________________
__________________________________________________________________________________
Baptism and Courage - Class 2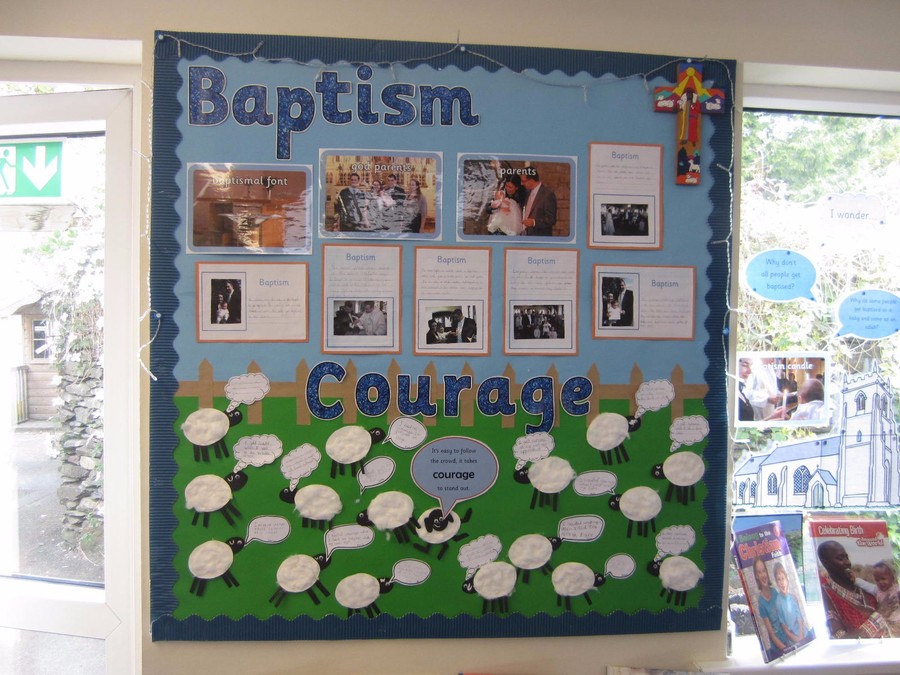 Our thoughts on courage . . .
Class 2 - writing and illustrations on 'Caring for God's World
Prayers for Forgiveness at Easter by Year 5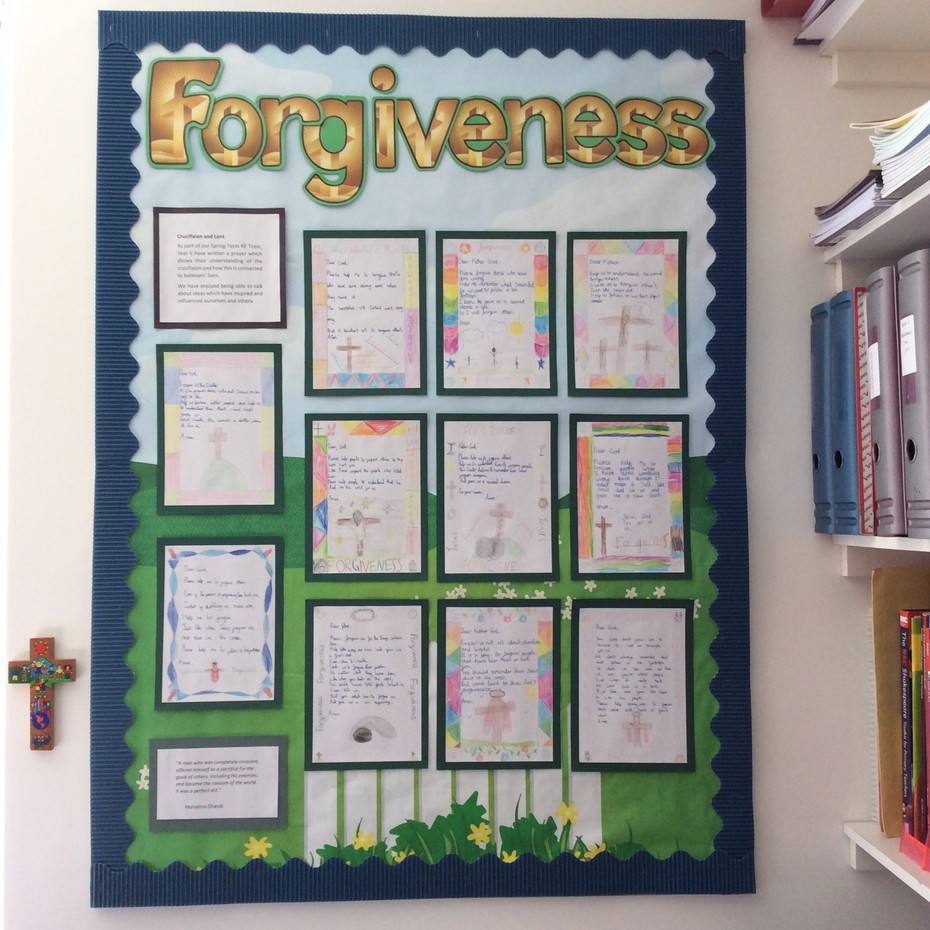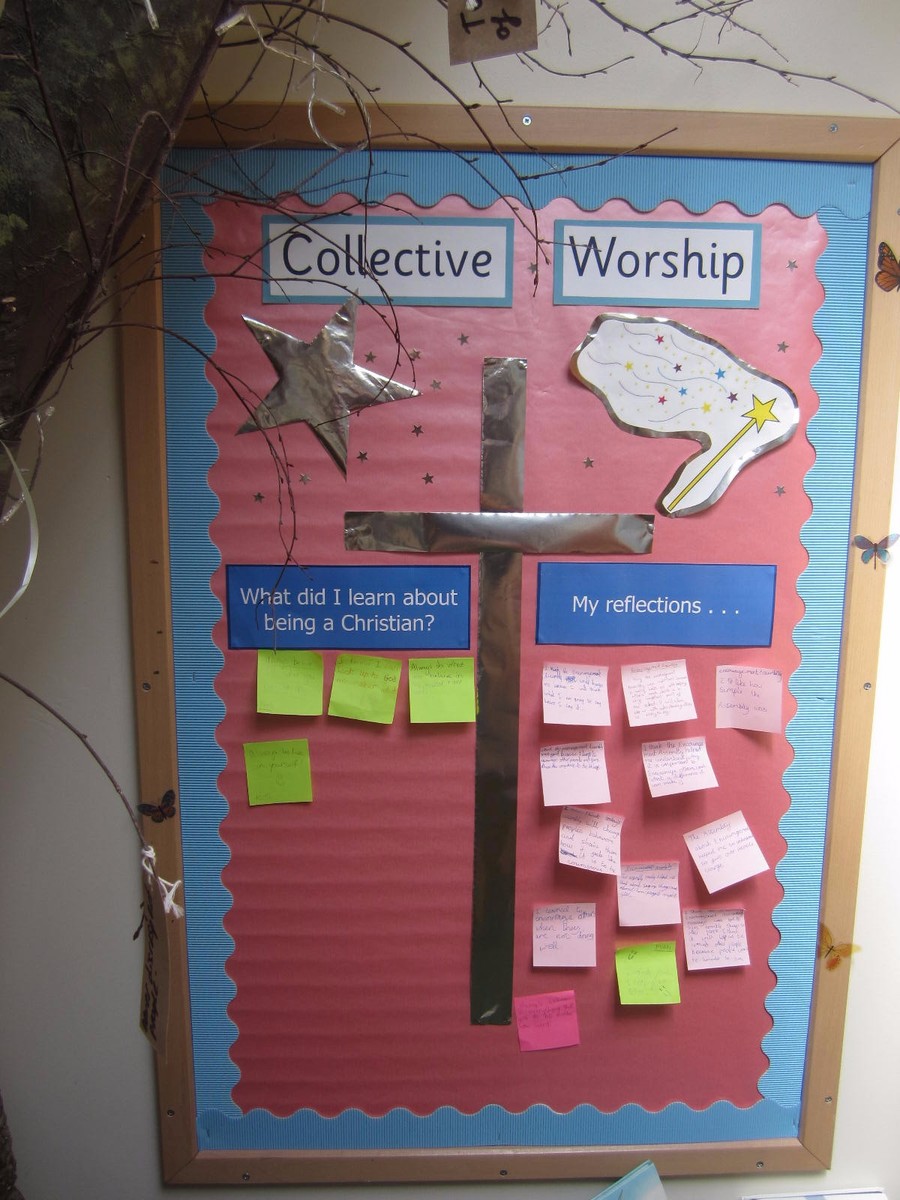 During Collective Worship children are chosen to reflect
and evaluate on what they have learnt.
Look at all our lovely classroom RE displays . . .
(CLICK on photo to enlarge)
Christian Values Curriculum
CYCLE A

Autumn 1
Friendship
Autumn 2
Thankfulness (links to Christmas)
Spring 1
Hope
Spring 2
Forgiveness (links to Easter)
Summer 1
Courage
Summer 2
Trust
CYCLE B
Autumn 1
Compassion (caring for others)
Autumn 2
Peace (link to Christmas)
Spring 1
Truthfulness
Spring 2
Generosity
Summer 1
Perseverance
Summer 2
Respect
For further information, click on the links below.